Call For Special Pricing
We give our best pricing up front.
We EARN the sale based on knowledge, service, and the longest warranty
You could benfit from not only the best price, Eurostoves renowned nationwide customer service. But also the longest warranty.
We deliver to all mainland US States
Don't wait make the call
978-810-4038
The Capital range has been designed to meet the demands of people who love to cook and for someone who needs to cook large amounts and fast...
The New Culinarian Range series, with Open Burner highs of 25k Btu and the ability to simmer, will do everything you have wished for from a range or cooktop. Sear, stir fry, melt chocolate, simmer a delicate sauce, bake your favorite cakes and cookies for the kids and of course Roast that big Bird .......
Some will be thinking, do I need to be a working chef to use this range? Well, the simple answer is NO. I feel very confident in saying EVERYONE will cook better using this range or cooktop just by cooking the same way as you always have. Whilst your skill level might not change, using this range will improve your results. If you have a better tool for the job, your cooking will improve.
Please take some time to watch the videos on this site, I am sure you will be more than just impressed with the features of this range from the:
Open Burner,Griddle, Grill, Oven, Broiler, Fit & Finish
If you love to cook, your options have always been limited to one or two ranges based on features and cooking ability. Well, now you have one more option to research.
If your wish list contains any or all the following.... excellent cooking features, easy to clean, low maintenance, stunning fit and finish coupled with excellent customer service, the New Capital Open Burner Culinarian Series should be at the pinnacle of your shopping list.
Your long search for a perfect range may well be over with the introduction of the New Capital Culinarian
ranges and cooktops.
It is Really Not Complicated

Open Burners give you more control and vastly improved heat distribution over a sealed burner range or cooktop.

Gas Ovens produce moisture which is better for roasting and bread making plus many other baked goods.

High heat open burners are far superior for wok cooking, searing and stir frying.

A low even simmer will hold delicate sauces with ease.

Open Burner ranges and cooktops are easier to clean than sealed burner ranges.

The rotisserie in the main oven is just unbelievable.

After 1 hour set at 350° F The average door temp is only 89.13° F, with a 78.9° F. Ambient room temp now that is just so cool.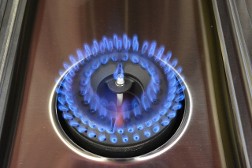 Be Prepared this range will
AMAZE YOU

With a 1 year Parts & Labor Warranty followed by a further 3 years Parts only & Technical Assistance.
This gives the Capital Culinarian Ranges and Cooktops an extensive
4 years of factory & Eurostoves coverage.
THE ABOVE WARRANTY IS FOR
EUROSTOVES CUSTOMER
ONLY